The Ultimate Guide to Minimalist Jewelry: Exploring the Latest Trends & Styles
If you're into fashion, you must've observed that minimalist jewelry is an increasingly popular trend in fashion today. It's a style that focuses on simplicity and elegance, with minimal design elements and subtle accents.
It is an aesthetic that focuses on simplicity and subtlety, with pieces featuring clean lines and minimal details. This style has become increasingly popular due to its versatility, allowing it to be worn for both every day and special occasions.
This guide will explore the latest trends in minimalist jewelry, from delicate necklaces to bold rings. We'll also look at how to choose the right pieces for your wardrobe, as well as how to care for them so they last longer. Finally, we'll look at some of the most popular styles of minimal jewelry and how they can be used to create a unique and stylish look.

Personalized Name Necklace to my soulmate, you are my everything | Real Gifts Of Love
What is Minimalist Jewelry and How Did it Become So Popular?
Minimalist jewelry is a type of jewelry that features simple designs and is often made of precious metals. It has become increasingly popular in recent years due to its ability to make a statement without being too flashy or ostentatious. Minimalist jewelry is often associated with the trend of minimalism, which emphasizes simplicity and quality over quantity.
It is a type of jewelry that focuses on simplicity and minimalism. It has become increasingly popular over the past few years, as more people are drawn to its clean and modern look. Minimalist jewelry is characterized by its use of simple shapes, lines, and materials.
It also often uses fewer colors than traditional pieces of jewelry. The goal of minimalist design is to create something that looks stylish while still being easy to wear and maintain. This type of jewelry has been embraced by fashionistas around the world for its ability to make an outfit look chic without being too busy or overwhelming.
5 Amazing Ways to Incorporate Minimalist Jewelry into Your Wardrobe
Minimalist jewelry is a great way to make a statement without the need for over-the-top pieces. It is an opportunity to make your wardrobe look more stylish and put together, while still keeping things simple and effortless. With minimalist jewelry, you can easily incorporate pieces into any outfit in order to create a unique look that is both timeless and modern. Here are five amazing ways to incorporate minimalist jewelry into your wardrobe.
Choose simple and versatile pieces: Look for minimalist jewelry in basic shapes, such as hoops, studs, and chains. These items can be dressed up or down and paired with any outfit.
Mix and match different metals: Mixing silver, gold, and rose gold can add depth and interest to your minimalist jewelry collection. Experiment with different metal combinations to find your favorite.
Wear layering pieces: Layer delicate necklaces or bracelets for a subtle, yet eye-catching look. This is a great way to add dimension to a minimalist outfit.
Make a statement with oversized pieces: Large, minimalist jewelry can make a big impact, especially when paired with a simple outfit. An oversized pendant necklace or statement earrings can be the focal point of your look.
Experiment with textures: Minimalist jewelry can also incorporate different textures, such as matte finishes, high-polish, or engravings. Try incorporating these elements into your wardrobe to add visual interest to simple pieces.
The Pros and Cons of Shopping for Minimalist Jewelry Online
Shopping for minimalist jewelry online has become increasingly popular in recent years. With the rise of e-commerce, it's now possible to find a wide selection of minimalist jewelry from all over the world without ever leaving your home. However, it's important to consider the pros and cons of shopping for minimalist jewelry online before making any purchase decisions. In this article, we will explore the advantages and disadvantages of shopping for minimalistic jewelry online so that you can make an informed decision when searching for your next piece of jewelry.
Pros of shopping for minimalist jewelry online:
Convenience: Online shopping allows you to shop for minimalist jewelry from the comfort of your own home, without having to travel to a physical store.
Wider selection: Online retailers often carry a larger selection of minimalist jewelry than brick and mortar stores, giving you more options to choose from.
Comparison shopping: Online shopping makes it easier to compare prices and styles from different retailers, helping you find the best deals on minimalist jewelry.
Access to specialty stores: Online shopping gives you access to specialty stores and independent designers, allowing you to find unique and handmade minimalist jewelry.
Cons of shopping for minimalist jewelry online:
Difficulty in determining quality: It can be challenging to assess the quality of minimalist jewelry when shopping online. You can't touch or inspect the item in person, making it difficult to determine if it is made of high-quality materials.
Shipping and handling costs: Shopping for minimalist jewelry online may come with shipping and handling fees that can add up, making it more expensive than buying in-store.
Incorrect sizing: When shopping for minimalist jewelry online, it's important to be aware of the sizing chart. Incorrect sizing can result in having to return the item and wait for a replacement, adding time to the shopping process.
Possible disappointment with the product: Despite the best efforts of online retailers to accurately represent their products, there's always a risk of receiving an item that doesn't look exactly like it did in the photos or description.
How to Choose the Perfect Piece of Minimalist Jewlery
One approach to finding the perfect minimalist jewelry is to consider the occasion. For a casual everyday look, a simple minimalist necklace or bracelet might be perfect.
On the other hand, for a more formal occasion, a more eye-catching minimalist piece such as a choker or statement earrings could add the perfect touch of sophistication. Additionally, you can also think about the material and color of the jewelry.
Opt for a minimalist piece made of precious metals such as gold or silver or consider a pop of color with a minimalist piece in a bold hue like red or blue. The most important thing is to choose a minimalist piece that speaks to your personal style and reflects your individuality.
Whether it's a minimalist ring, a delicate pendant, or a minimal watch, the right piece of jewelry can make a big impact in a small and understated way.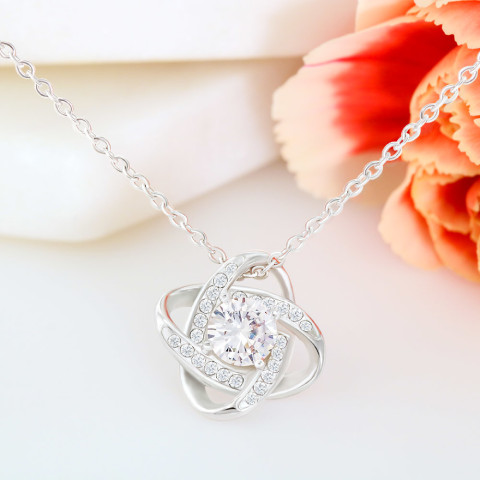 Love Knot - To My Mother-in-law ... | Real Gifts Of Love
Minimalist jewelry is a great way to add a subtle touch of elegance and style to your look. Whether you're looking for something classic or something more modern, there are plenty of options out there. But how do you choose the perfect piece?
Here are some tips on how to select the right minimalist jewelry for your unique style.
Consider what type of metal you prefer – gold, silver, or other materials such as titanium or stainless steel. Then think about the design – do you want something simple and understated or bold and eye-catching?
Finally, make sure that it fits your budget – there's no point in spending too much on a piece that won't last very long. With these tips in mind, you'll be sure to find the perfect minimalist jewelry for any occasion!
Where to Find the Best Minimalist Jewelry Pieces?
Are you looking for unique and stylish minimalist jewelry pieces? With so many options available online, it can be difficult to find the best places to buy handmade jewelry pieces. 
Fortunately, there are many great places where you can find the perfect minimalist jewelry pieces that will add a touch of elegance and sophistication to your look. From online stores specializing in handmade jewelry pieces to popular retailers offering unique and beautiful designs, you'll be sure to find something that fits your style.
The best online store you can find is Real Gifts Of Love as it offers different customized jewelry to make your accessory more special and unique.